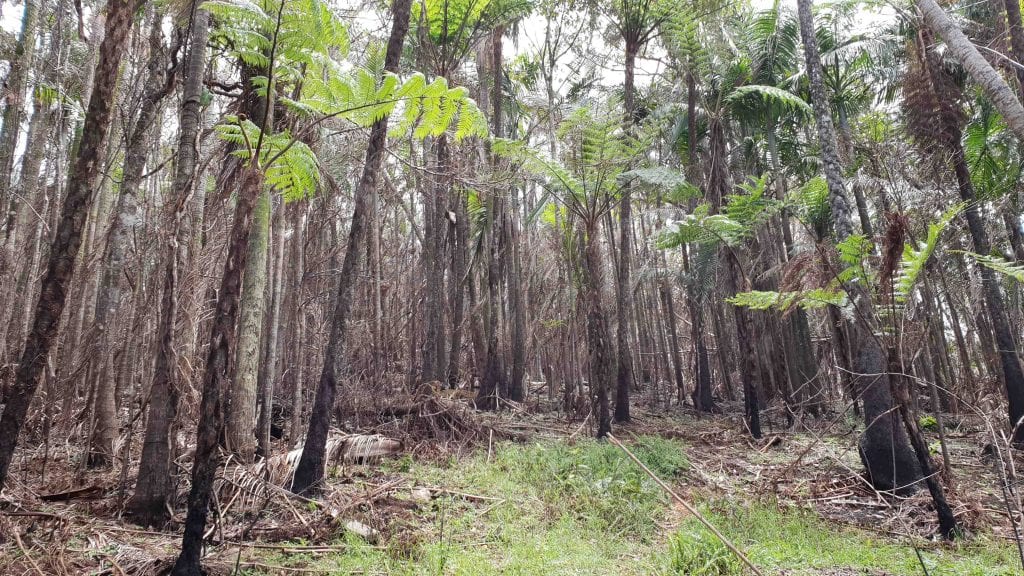 Funded by: North Queensland Dry Tropics (NQDT), through the Landholders Driving Change Project.
A legacy of this project has been the creation of Fencelines: Eungella Ag-NRM Update. This publication brings together agriculture, natural resource management and community news. Low resolution copies are published here. To subscribe and receive a high res version, please email communications@pioneercatchment.org.au
Newsletter: Fencelines- Eungella Ag-NRM Update, Summer 2021
Newsletter: Fencelines- Eungella Ag-NRM Update, Winter 2021
Newsletter: Fencelines- Eungella Ag-NRM Update, Autumn 2021
Project Outline:
In late 2018 the Mackay region was ravaged by severe bushfires. Around 110,000 hectares of National Park and private property were burnt out in the Eungella area, with areas like Dalrymple Heights and Crediton being the worst hit. Fire sensitive vegetation communities such as rainforest and wet eucalypt forest were completely burnt out, and there are concerns that weeds were outcompeting natural regeneration. To assist fire affected landholders in the recovery of their burnt out vegetation PCL was funded by NQDT to run the Eungella Rainforest Recovery Cluster Group.
The aim of the group is to provide best practice advice to landholders who are trying to deal with these unprecedented circumstances. The following services are provided to landholders in the group free of charge:
Free consultancy to landholders in the form of an on property visit by an ecology expert;
Landholders provided with a property management plan which will detail advice given during the visit;
Ideas and information from landholders will be collated to help tailor community field days to address the needs of participants;
Information on potential funding opportunities for on-ground works;
On-going support for landholders, including meetings on needs basis.
If you are a fire affected landholder or know someone who is, please contact us to find out more about help available.
GRIT NQDT Newsletter Article featuring Rainforest Recovery project activities