Eungella Rainforest Recovery Cluster Group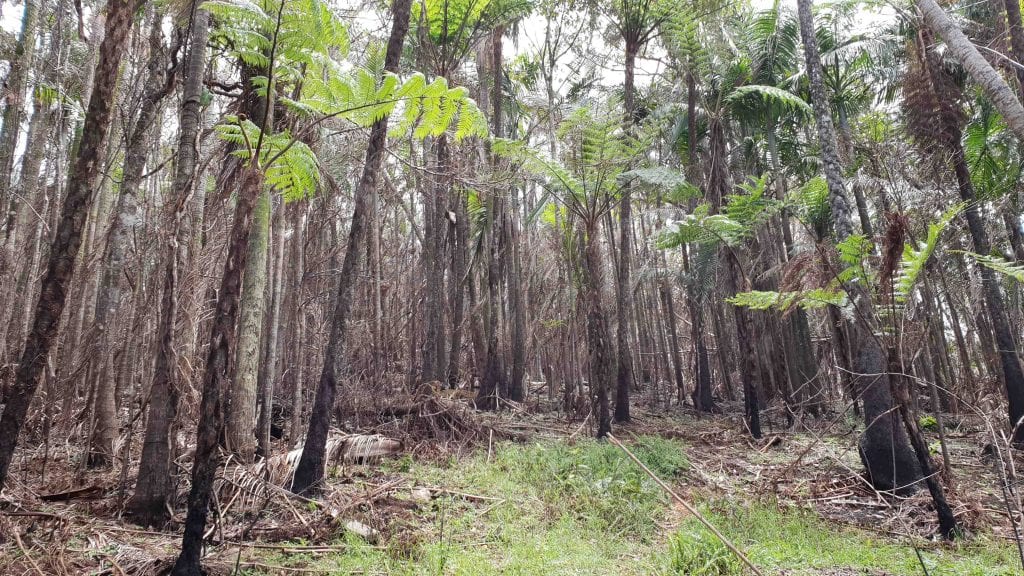 Funded by: North Queensland Dry Tropics (NQDT), through the Landholders Driving Change Project.
A legacy of this project has been the creation of Fencelines: Eungella Ag-NRM Update. This publication brings together agriculture, natural resource management and community news. Low resolution copies are published here. To subscribe and receive a high res version, please email communications@pioneercatchment.org.au
Project Outline:
In late 2018 the Mackay region was ravaged by severe bushfires. Around 110,000 hectares of National Park and private property were burnt out in the Eungella area, with areas like Dalrymple Heights and Crediton being the worst hit. Fire sensitive vegetation communities such as rainforest and wet eucalypt forest were completely burnt out, and there are concerns that weeds were outcompeting natural regeneration. To assist fire affected landholders in the recovery of their burnt out vegetation PCL was funded by NQDT to run the Eungella Rainforest Recovery Cluster Group.
The aim of the group is to provide best practice advice to landholders who are trying to deal with these unprecedented circumstances. The following services are provided to landholders in the group free of charge:
Free consultancy to landholders in the form of an on property visit by an ecology expert;
Landholders provided with a property management plan which will detail advice given during the visit;
Ideas and information from landholders will be collated to help tailor community field days to address the needs of participants;
Information on potential funding opportunities for on-ground works;
On-going support for landholders, including meetings on needs basis.
If you are a fire affected landholder or know someone who is, please contact us to find out more about help available.
GRIT NQDT Newsletter Article featuring Rainforest Recovery project activities
Raising the Profile of the local Water Mouse, Xeromys myoides
Funded by: Australian Federal Government National Landcare Program – Environment Small Grants.
Project Outline:
There have been very few investigations on the water mouse within the Mackay region, little is known about them and their key threats. This lack of knowledge has undermined the ability of organisations to implement effective conservation. This project aimed to address the knowledge gaps and provide management recommendations to land managers with water mouse habitat, including the Queensland Parks and Wildlife Service (QPWS). It also aimed to reduce the impacts of feral predators on the water mouse. Information was gathered through remote camera monitoring, and cameras were set to take images of water mouse and pests. The project also has a strong focus on community engagement and education. Four sites were identified for the study, which are Cape Palmerston National Park, Sandringham Bay Conservation Park, Bakers Creek Conservation Park, and Skull Knob Conservation Park.
Project Outcomes:
Habitat ground truthing: Over 130ha of mapped mangrove mouse habitat was ground truthed, to confirm whether the species is still present in these areas.
Camera monitoring: Motion-activated cameras were installed to survey mangrove mouse populations, and identify any threatening processes.
Pest management: A conservation detection dog searched key habitat areas for fox dens, which were fumigated to humanely euthanise the pests. Foxes are a major predator of the mangrove mouse, so their exclusion is important to protect local populations.
Community education: Field days and communications products were delivered to increase community awareness of mangrove mice
PCL commenced the project in August 2018, and it concluded in December 2019. We would like to give thanks to the volunteers who supported us during the field activities of the project, as well as to the in-kind contributions from Queensland Parks & Wildlife Service, Reef Catchments and SQ Landscapes.
Mackay Christian College Vines Creek Wetland Restoration
Funded by: Great Barrier Reef Marine Park Authority, 2018 Reef Guardian Community and Stewardship Grants.
Project Outline:
PCL worked closely with Mackay Christian College (MCC) to educate students and the local residents on the importance of wetlands and how they improve or can improve or support reef health. The wetland adjacent to the MCC junior campus provides the perfect opportunity for students to learn about wetlands up close and personal and engage in wetland restoration activities. The long term goal for this site is to protect and restore the wetland's ecosystem health and biodiversity, and improve outgoing water quality.
Project Outcomes:
The project provided a terrific and unique opportunity for students, teachers, and community members to foster stewardship of this wetland area. The educational components of this project have helped students understand the importance of wetland ecosystems and how they are interconnected with water quality and reef health. Direct access to the site allowed students the opportunity to apply what they have learnt in the classroom in a practical sense.
Achievements of the project:
Planting 750 local native trees, shrubs, and grasses by students, teachers and volunteers;
A special wetland presentation to year five students about the function and importance of wetlands by Department of Agriculture and Fisheries officer;
Removal of invasive weed species from the wetland;
70 year five students attended the Mackay Natural Environment Centre and learnt about plant propagation;
Significant increase in birdlife visiting the wetlands; and
The installation of signage for the wetland.
Have a similar project idea for your school? Please contact us with your ideas!
De Moleyns Lagoon Wetland Management Case Study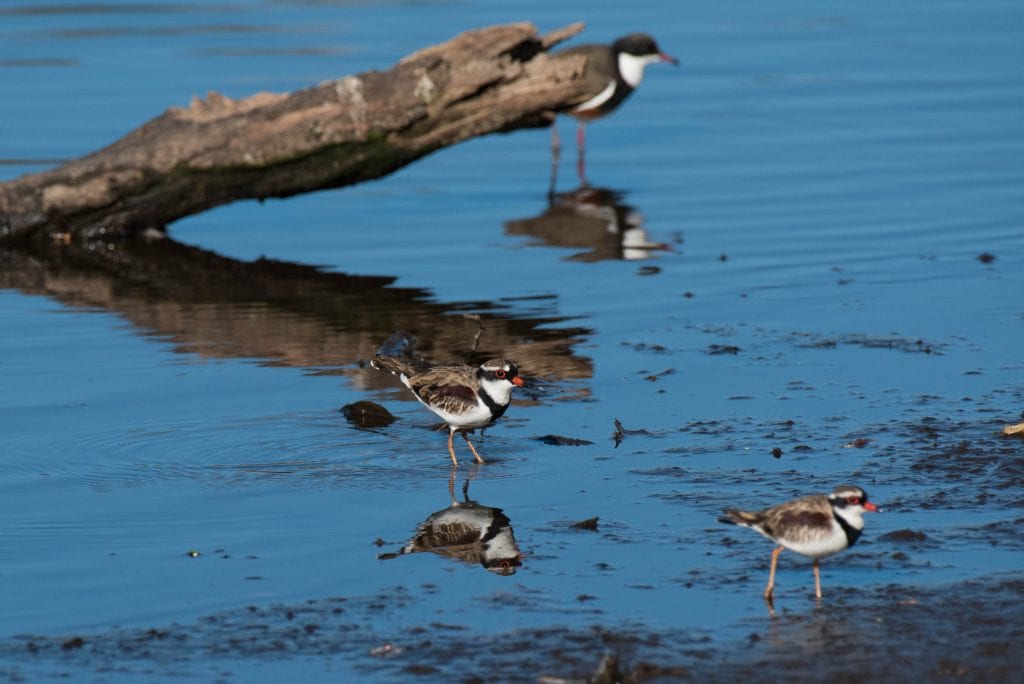 Funded by: Queensland Government's Department of Agriculture & Fisheries (DAF).
Project Outline:
To develop a second wetland management case study on De Moleyns Lagoon. The first case study was developed by DAF in 2013 and highlighted some of the activities that were being started through the WATER (Wetlands in Agriculture: Training, Extension and Resources) project, and also listed some of the future projects that had been planned for 2014 onwards. The new case study focused on works since 2014, as well as providing new information on bird species lists and comments from involved stakeholders.
Project Results:
The project was a first for PCL, as the group had never published this calibre of case study before. The project brought together many stakeholders who had been involved with the lagoon for a long time, and allowed them to reflect upon the great progress the site has made since the initial works were completed. Being able to reflect upon the outcomes of a project is extremely important to developing management strategies for other sites. The case study has been very well received, and has been featured in Land for Wildlife, PCL and DAF events at the lagoon.
You can find the completed 'De Moleyns Lagoon – stakeholder collaboration leads to successful environmental outcomes' linked below.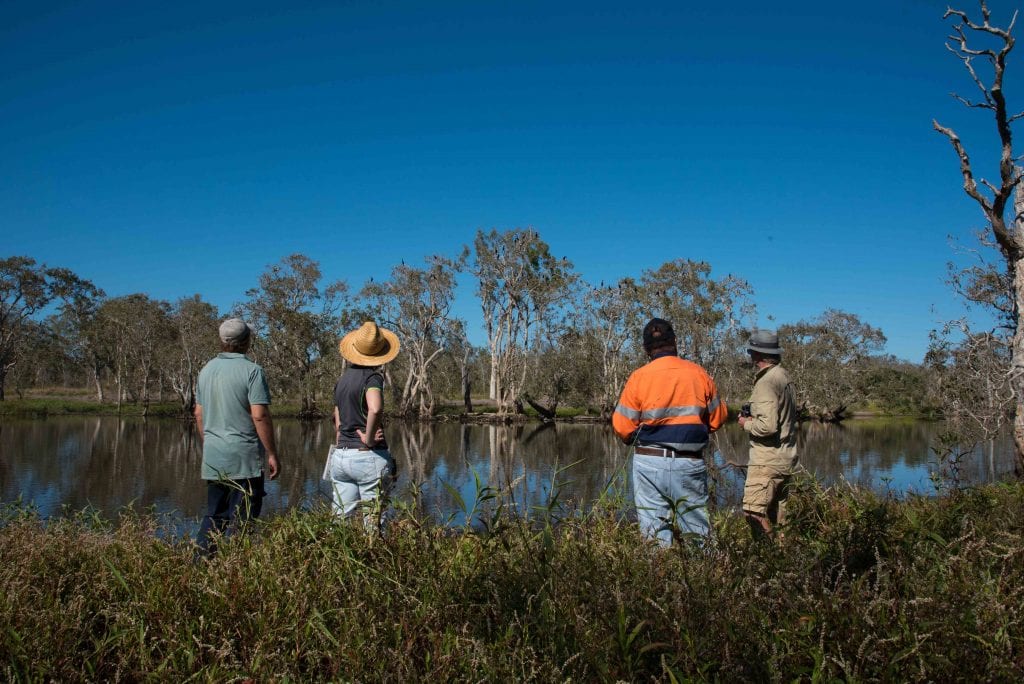 Slade Point
Funded by: Australian Government Community Action Grant
Project Outline:
Slade Point Reserve is a 73 hectare public reserve in the Mackay region. This project implemented aspects of the Slade Point Reserve Management Plan 2008-2018 through the development of educational resources, and by hosting working bees and events at the Reserve designed to engage and educate the community.
The project engaged over 300 individual community members in coastal ecosystem conservation by holding five community working bees, developing school activity resource material related to the Reserve, and hosting two school activity days in the Reserve. Additionally a professional contractor was hired to undertake a week's weed control work.
On-ground activities will restore native habitat and build community knowledge of the Reserve's ecological value. All on-ground work will be maintained into the future by the Reserve's trustees and community members engaged through the project.
Project Outcomes:
At project completion, PCL has:
Coordinated and delivered five community working bees;
Developed school educational material, including a PowerPoint presentation and a reference booklet for plants in the vicinity of the Teal St entrance of the Reserve;
Delivered eight school educational sessions (four in class and four visiting the Reserve), involving more than 180 children.
Developed one rehabilitation plot with school children with 54 trees planted encompassing 200m2
Promoted this project through a wide variety of activities including:
– displaying information at six local events;
– distributing 200 flyers to houses adjoining Slade Point Reserve and at local shops;
– advertising working bees on signs at Reserve entrances; and
– publishing four media articles.
Facilitated contractual works of over 90 hours of weed management priority species of threatening and noxious weeds.
Conducted two community information walks through reserve focusing on localised native species and the threats to the accompanying ecosystems.
Organised Conservation Volunteers Australia to undertake a range of activities throughout the reserve over a five day period.
Reef Catchments Pest Management Projects
Funded by: Reef Catchments Ltd.
Project Outline:
Over the years, Reef Catchments has funded several collaborative projects to help battle major weeds in Mackay and surrounding regions. These projects focused on Restricted Invasive Weeds such as Cat's-Claw-Creeper, Rubber Vine, Giant Rats Tail Grass, and Pond Apple. PCL has been involved in many of these projects, and has worked collaboratively with various stakeholders to manage these weeds that are threatening our environment and industry. An excellent example and success story is the management of Pond Apple.
Pond Apple (Annona glabra) is a restricted invasive plant under the QLD Biosecurity Act 2014. It poses a significant environmental threat to Northern Australia and is capable of destroying entire ecosystems.
In 2009, a suspicious fruit was brought to the attention of local Biosecurity Officers in Mackay by a concerned landholder. The fruit was collected from a tributary creek within the Reliance Creek catchment, just north of Mackay, QLD and was identified as Pond Apple. Upon identification, an extensive search was carried out to ascertain the degree of infestation. Surveys found that the infestation spanned across approximately 21.6 hectares of the Reliance Creek Catchment. Knowing how invasive Pond Apple could be, members of the Mackay Regional Pest Management Group (MRPMG) were keen to work together to eradicate this pest from the Mackay region.
Project Outcomes:
Since 2011, PCL have been involved in the monitoring and control of Pond Apple in the Reliance Creek catchment. Mackay Regional Council's Pest Management Officer and PCL's Project Officer have continued to survey, monitor and treat any identified Pond Apple species each year, with funding provided by Reef Catchments. These ongoing efforts have seen Pond Apple numbers decline drastically and the infestation zone reduced from 21.6 Ha to 3.6 Ha. Surveys carried out in the December 2017 and April 2018 did not locate any Pond Apple trees or seedlings, which is a fantastic outcome for the project and one that could only be achieved through collaborative partnerships and community involvement.
Funding opportunities, including the Australian Government's Caring for Our Country program and now the NRM Investment program through the Queensland Department of Natural Resources and Mines, have enabled the ongoing eradication strategies and efforts, which has ultimately lead to the success of this project. Mackay Regional Council will continue surveying in a reduced area for the next couple of years to ensure that the eradication of Pond Apple from the Mackay region is complete.